Veterans Honor Flight is 100% donation funded. As of 2018, our organization maintains a 98.5% efficiency level, ensure your donations go directly to send our Veterans to Washington. Everyone's donations are greatly appreciated, even the smallest amount is a huge help. Our flight costs are increasing, up 18% from 2017 at over $85,000 per flight. Below are various methods that you can use to donate to Veterans Honor Flight.
---
Personal Donations
A majority of our funding comes from individuals just like you donating to help keep the Honor Flight mission going. Donations of any amount are greatly appreciated.
One-Time Donation
---
Corporate Donations
Our corporate partners are a huge part of Honor Flight. We welcome all levels of donations. For donations in excess of $1,000, sponsors are listed on the Honor Flight web site. For donations in excess of $5,000, per flight, social media posts are included with links to your social media. For donations in excess of $10,000, a banner may be hung at Veterans Airport for the flight.
---
Supply Donations
Each flight poses a logistical challenge for our team. If you are interested in donating supplies, please visit our Supply Donation page for more information.
---
Wheelchair Banners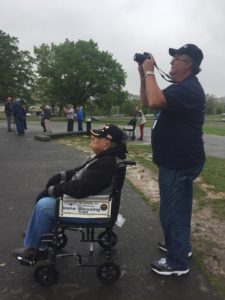 Honor a loved one with a Wheelchair Banner from Veterans Honor Flight. With this donation, we will produce a banner with the name of your choosing, and attach it to a wheelchair used by our veterans during our flights. Your banner will remain for 1 year and then be sent to you as a keepsake. Your donations help ensure we can fly more veterans, and provide honor to a veteran of your choice. Use the donate button below to purchase a wheelchair banner:
---
Amazon Smile
Using Amazon Smile, you can donate just by purchasing items on Amazon. Absolutely no cost to you. All you have to do is join, and use the http://smile.amazon.com web site to do your shopping. Simple as that.