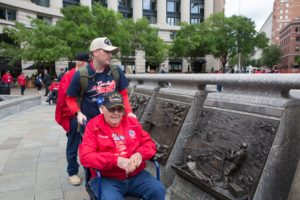 Each veteran is assigned a guardian. That guardian is responsible solely for that veteran.
Guardians are essential to the success of Honor Flight. Without these volunteers we would not be able to carry out the dreams of so many veterans, enabling them to see the memorials built in their honor.
NOTE: Guardians are selected for each veteran approximately 90 days prior to flight day. If a veteran wishes to specify a guardian (family member, friend, etc), this must be done at the time of application. Changes to guardian assignments cannot be made last minute.
Responsibilities
Flight Preparation
Reviewing Material with Veteran
Assigning Boarding Passes to Veterans
Assist Veteran in Boarding the Aircraft
Assist Veteran in Exiting the Aircraft
Push Veteran's wheelchair for duration of the trip
Ensure the Veteran has a Memorable trip
Requirements / Limitation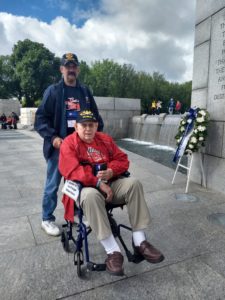 Guardians are essential to our operation. Because of this, Guardians must be able to perform certain tasks and be available when needed. Veterans Honor Flight uses the following guidelines for Guardians:
Must be between 18 and 70 years of age
Must attend training prior to each flight
Must be able to push a veteran in a wheelchair, including up ramps/hills
Must be able to assist a veteran climb/descend stairs
Must have an active email address on file with Veterans Honor Flight of Southern Illinois
Must not be the spouse of a veteran on the flight
Must be approved by the Board of Directors
Depending on the circumstances, other specific requirements may be imposed. If you have questions, please contact us.
Costs
Guardians are responsible for their own transportation to/from Veterans Airport of Southern Illinois. Each guardian must also pay $600 to cover their flight expenses. While this is less than the actual cost, it ensures Veterans Honor Flight can continue operations.
Training
Because of their importance, we will provide training to all Guardians prior to their flight. Guardians are required to attend this training. Guardians are notified by email of the training date.
NOTE: All Guardian communication is done via email. If we do not have an accurate email address for you, we cannot contact you to serve as a guardian for a flight.