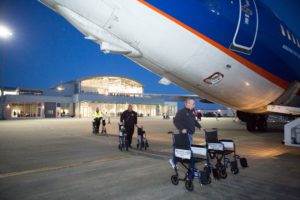 Veterans Honor Flight of Southern Illinois exists through the efforts of volunteers throughout our region wanting nothing more than to honor and be a part of a lasting tribute to our true American heroes. Volunteers are always needed for fundraising planning and events: promoting and marketing the program: planning and preparations for each flight: and coordinating the highly anticipated and patriotic community-wide welcome home reception for each flights return.
Volunteers must be 18 years of age or older.
Groups and organizations involving children under the age of 18 are encouraged to attend our Welcome Home Celebration, wear patriotic attire, make signs and help welcome our Veterans home!
Non-Flight Day Volunteers
Our largest need for volunteers comes outside of flight day. Volunteers are used for all Honor Flight tasks.
Volunteer Jobs
Event Representation
Presenting to Groups
Mail Call Preperation
Guardian Training Day
Medical Evaluation Day
Fundraisers
Community Event Representation
Donation Recruitment
and more
Volunteer efforts are coordinated via email. You must have an active email on file to be contacted to volunteer.