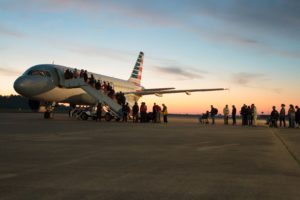 Veterans Honor Flight of Southern Illinois celebrated its Inaugural Flight on April 25, 2017, honoring 55 veterans with a trip to Washington DC. With a goal of flying once per year, Veterans Honor Flight immediately began preparations for a second flight. Due to overwhelming support from the Southern Illinois community, Flight 2 was funded early and flew on October 17, 2017, using a larger aircraft, 68 veterans were flown. The Board of Directors began planning for a third flight before Flight 2 even took off.
After months of planning, the Board of Directors of Veterans Honor Flight of Southern Illinois is proud to announce Flight 3 has been set for April 24, 2018. Once again, area veterans will depart from Veterans Airport of Southern Illinois in Marion, on a once-in-a-lifetime trip to Washington DC. The flight will return that evening after veterans have visited the National WWII Memorial, Korean War Memorial, Arlington National Cemetery, as well as other monuments and memorials in Washington.
"You know, we expected to fly once per year, and with a 50-seat aircraft," Bryan Questelle, Chairman of the Board said. "Now we're flying twice per year, with a 150 seat aircraft. The challenges are huge, but our board and volunteers get it done."
The flight, provided free of charge to all veterans, is completely funded by donations to Veterans Honor Flight. For Flight 3, aircraft charter cost increased 15%. Already the single most expensive item on the trip, the chartered airliner cost increase significantly raised the overall trip cost by over $15,000.
Each veteran is accompanied on the flight by a guardian. Guardians ensure the safety of traveling veterans, provide mobility assistance, and emotional support during this unique day. Guardians may be friends or relatives of traveling veterans, or may be assigned from Veterans Honor Flight's database. Each guardian receives training prior to flying, and is responsible for paying the guardian fee of $600. While this fee does not cover the entire cost of the seat, it helps ensure donations to Veterans Honor Flight are used for our veterans as much as possible.
Veterans Honor Flight strives to maintain the lowest level of overhead possible. At the end of the Inaugural Flight, treasurer Randall Youngblood announced the organization had maintained overhead costs of just 3.5%, meaning 96.5 cents of every dollar donated went directly towards a veteran on the flight.
Veterans wishing to apply for Flight 3 must have a completed veteran application submitted to Veterans Honor Flight no later than February 16, 2018. Guardians not associated with a veteran, who wish to be considered for Flight 3 must have a guardian application on file no later than February 16, 2018. Guardian training for Flight 3 will occur on March 24, 2018 at Veterans Airport, more information will be released later. All guardians must have completed training prior to flying. Veteran and guardian applications are available at www.veteranshonorflight.org.
Veterans Honor Flight would like to thank all individuals, corporations, and organizations who have donated to help make Flight 3 possible. Donations are still needed to ensure a successful flight and future flights. Donations may be made online at www.veteranshonorflight.org, by mailing a donation to Veterans Honor Flight, or at any Peoples National Bank location. Additionally, individual donations are available for wheelchair banners and veteran certificates. Those interested should contact Veterans Honor Flight at www.veteranshonorflight.org/contact.
Veterans Honor Flight of Southern Illinois is a member of the Honor Flight Network, a national network dedicated to honoring our nation's veterans by providing free trips to Washington DC to visit memorials built in their honor. Since 2005, the Honor Flight Network has transported over 200,000 veterans to their memorials. Veterans Honor Flight of Southern Illinois was founded in 2016 and serves Southern Illinois south of US Route 50.