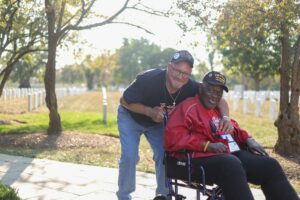 Following the conclusion of Welcome Home celebrations from this fall's 6th flight, the Board of Directors of Veterans Honor Flight of Southern Illinois announced a big surprise for Spring 2020.
Since the Inaugural Flight in April 2017, Veterans Honor Flight has been traveling to DC twice per year with one flight in the spring and one in the fall. While this means over 100 veterans travel to Washington DC per year, the group felt more area veterans needed to be served faster.
For the first time ever, Veterans Honor Flight will fly twice in one season. Flight 7 is scheduled for Tuesday, May 5, 2020. Just one month later, on Tuesday, June 9, 2020, Flight 8 will depart for Washington.
"Thanks to the support of Southern Illinois, we're able to go twice in the Spring," said Bryan Questelle, chairman of the board.
Each flight will transport approximately 85 veterans.
Veteran and guardian applications must be received by 5:00pm Friday, February 28, 2020 to be eligible for Flight 7 or 5:00pm Friday, April 3, 2020 to be eligible for Flight 8.
World War II veterans have priority, followed by Korean War veterans. Chairman Questelle expressed his desire to find those WWII veterans who have not yet flown.
"We know there are World War II vets out there, some who may think they cannot travel, or even those who feel they don't deserve the flight. We want them to fly with us. We will ensure they're safe, and we all know they all deserve the trip," Questelle said.
For regular updates, follow Veterans Honor Flight on Facebook at www.facebook.com/veteranshonorflight