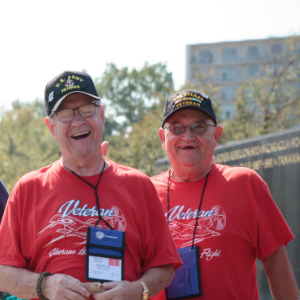 Veterans Honor Flight of Southern Illinois has announced that Flight 7 will transport 87 of our area's honored veterans to Washington D.C. on Tuesday, September 28, 2021.
Originally planned for May 5, 2020, Flight 7 has been postponed several times due to the ongoing COVID-19 pandemic. With the latest guidance from the CDC and relaxing of local COVID-19 restrictions, it is now possible to conduct an Honor Flight and to ensure veteran safety.
All veterans originally selected to fly on May 5 remain on the flight. Veterans have also been given the option to fly at a later time, if they wish.
The flight will depart Veterans Airport of Southern Illinois at 5:15am and return at 8:00pm. The public is invited to attend the Welcome Home ceremony beginning at 5:00pm. Those in attendance do not have to be vaccinated. Masks are required inside Veterans Airport. More details will be published soon on our web site at www.veteranshonorflight.org.
In order to maintain the highest level of safety for our veterans, all participants must be fully vaccinated against COVID-19 prior to travel. This includes all veterans, guardians and Honor Flight staff. Veterans Honor Flight has implemented safety and cleaning measures to ensure the safety of our honored veterans.
Veterans Honor Flight of Southern Illinois is a hub of the Honor Flight Network, an organization dedicated to transporting our nation's veterans to Washington D.C. to see the memorials built in their honor. Veterans travel for free, with funding coming from local donations. All Veterans Honor Flight staff are volunteers.