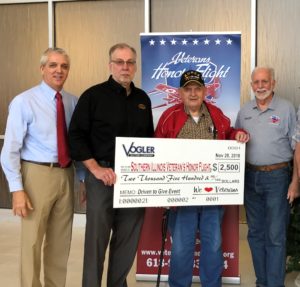 Veterans Honor Flight of Southern Illinois wishes to thank the Vogler Motor Company for its generous contribution to Veterans Honor Flight of Southern Illinois. On Saturday October 20th, Vogler hosted a test drive campaign where each test drive given generated a donation to Veterans Honor Flight through the Lincoln Driven to Give Program.
Vogler Sales Manager Kern Weshinskey and Tim Hirsch presented a check today in the amount of $2,500 to Veterans Honor Flight officials. Dale Poiter, a Veteran who traveled on Veterans Honor Flight's 3rd mission in April of this year, was also present for the presentation. Mr. Poiter congratulated everyone on the ongoing fundraising efforts. He spoke to how meaningful this program is, and how memorable these flights become for the Veterans that go.
Since 2011, Vogler Ford-Lincoln has helped raise more than $122,000 for local schools and organizations through the Drive One For Your School and Drive One For Your Community programs.
The Honor Flight program is a nation-wide network dedicated to providing all veterans who apply a free trip to Washington D.C. to visit memorials honoring their service and sacrifice. Veterans Honor Flight of Southern Illinois is an established 501(c)3 non-profit hub of the Honor Flight network. Our Executive Board governs the hub and we utilize volunteers in order to accomplish our mission.