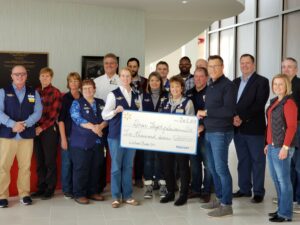 Area Walmart stores continued their support of Veterans Honor Flight of Southern Illinois with a donation of $5,000 today. Walmart is one of many Southern Illinois businesses which support the donation-funded organization. With today's donation, Walmart has donated $53,000 to Veterans Honor Flight in addition to providing supplies for flights and other events.
"Partners like Walmart are what make our mission possible," said Bryan Questelle, Chairman of the Board of Veterans Honor Flight of Southern Illinois. "They've been a great partner, and they understand how many local veterans there are and that they deserve this honor."
Walmart began supporting Veterans Honor Flight more than two years ago. Associates have traveled as guardians, assisted at the recent reunion, and serve as volunteers during the Welcome Home Celebration for each flight.
"At Walmart, we are dedicated to supporting our armed forces, from those currently serving to those who have retired," said Jamie Tylka, Walmart Market Manager for Southern Illinois. "We're proud of our longstanding support of Veterans Honor Flight of Southern Illinois."
Veterans Honor Flight of Southern Illinois completed their sixth flight to Washington D.C. on October 1 with over 85 veterans being honored. The group announced two flights in the Spring with Flight 7 scheduled for May 5, 2020 and Flight 8 on June 9, 2020. This marks the first time the group has flown more than twice in a year.
"Without support from organizations like Walmart, we wouldn't be going twice in the Spring." Questelle said.
A check presentation is scheduled for 2:00pm on Friday, November 8, 2019 at Veterans Airport. The public is welcome to attend.
Veterans wishing to travel in the spring must apply by February 28, 2020. Applications are available at www.veteranshonorflight.org or at Veterans Airport of Southern Illinois.
Veterans Honor Flight of Southern Illinois is a hub of the Honor Flight Network. The nonprofit provides free trips for veterans to Washington D.C. to visit the memorials built in their honor. Founded in 2016, Veterans Honor Flight of Southern Illinois covers all of Southern Illinois and flies out of Veterans Airport of Southern Illinois in Marion. For more information visit www.veteranshonorflight.org