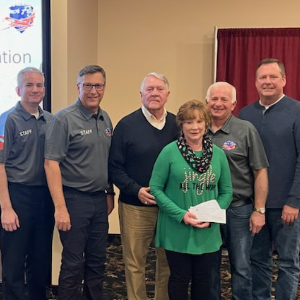 Area veterans will have even more chances to be served by Veterans Honor Flight thanks to an influx of funding from Herrin's Harrison-Bruce Foundation. Treasurer Randy Youngblood made the announcement Friday at a volunteer appreciation dinner being held to thank the hundreds of volunteers who make Veterans Honor Flight possible.
The Harrison-Bruce Foundation has provided funding in excess of $125,000 to fully fund the upcoming 10th flight scheduled for May 9, 2023. Flight 10 is expected to take 87 veterans to D.C. along with guardians.
"We are very careful with every dollar donated, because we want to serve the veterans," Youngblood said. "Our team maintains excellent financial efficiency, but flights are expensive and that cost is increasing." Youngblood said with the donation from the Harrison-Bruce Foundation it allowed Veterans Honor Flight to book and announce an 11th flight for September 2023 early. "This funding makes it possible to book number 11 now," he said.
Carl Goodwin and Barbara Jacobs of the Foundation presented the check to the Board of Directors during the volunteer appreciation dinner. "Honor Flight is very special to us," Jacobs said.
"I got to take my father on Honor Flight, and it was very special," Carl Goodwin, also of the Harrison Bruce Foundation, said.
Veterans Honor Flight announced Flight 11 is now scheduled for September 2023 with the exact date to be announced later.
Veterans are currently being selected for Flight 10 in May 2023. Veterans selected will receive a letter in the coming weeks.
Guardians will be selected for Flight 10 after the first of the year. Anyone interested in participating as a guardian may apply at www.veteranshonorflight.org. A guardian fee applies to all guardians who travel.
Veterans Honor Flight currently has over 500 veterans on the waiting list to fly. Veterans are served in age order, with the oldest veterans being selected first. "This funding ensures Flight 11 will happen, and we can start on fund raising for Flight 12," chairman of the board Bryan Questelle said.
Veterans who wish to participate in Honor Flight can apply online at www.veteranshonorflight.org or call 618-942-3930 to request a paper application. All veterans are eligible to fly regardless of age or dates of service.
If you would like to support Veterans Honor Flight, donations can be made at www.veteranshonorflight.org or any Peoples National Bank or Banterra Bank facility in Southern Illinois. All donations are tax deductible. Additionally, donations may be made in association with sponsorships, such as a wheelchair banner sponsorship ($100) which places a banner on one of the wheelchairs taken to Washington D.C. in honor or memory of a veteran or with a personal message. For additional sponsorship information, visit www.veteranshonorflight.org.
Follow Veterans Honor Flight on Facebook (www.facebook.com/veteranshonorflight) or Instagram (www.instagram.com/vethonorflight) for the latest information.
Veterans Honor Flight of Southern Illinois is a hub of the Honor Flight Network and is dedicated to the service of the veterans in Southern Illinois. Veterans Honor Flight of Southern Illinois is a 501(c)3 non-profit organization with all available donations going directly to flight costs. As of 2019, 97.5% of all donated money was used for flight costs.