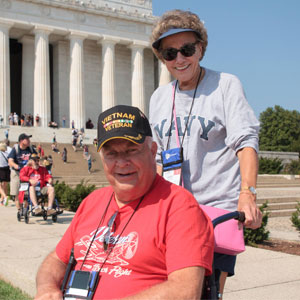 Veterans Honor Flight of Southern Illinois announced Tuesday the group will return to Washington D.C. in the Spring. The all-volunteer group will conduct their eighth flight honoring veterans from Southern Illinois on Tuesday, June 7, 2022.
Founded in 2016, Veterans Honor Flight has transported over 520 veterans to Washington D.C. to see the memorials built in their honor. Starting in 2017, the group has run two flights per year with the exception of those flights rescheduled due to COVID-19. Flight 8, originally scheduled for June 2020, is the last flight rescheduled.
Flight 7, held on September 28, 2021, marked the return to flying after COVID-19. Adhering to strict safety protocols, Veterans Honor Flight was able to conduct this flight with zero reported cases of COVID-19 among the 183 passengers who traveled. All participants were vaccinated in accordance with CDC guidance.
All veterans are encouraged to sign-up for Honor Flight by going to www.veteranshonorflight.org and filling out an online application. Veterans are selected based on their dates of service, with those serving in World War II being selected first along with any terminally-ill veterans. Veterans Honor Flight of Southern Illinois currently has over 300 veterans on the waiting list for flights and is serving those who served in World War II, Korea, Vietnam, and between the conflicts. Those who served in Vietnam with a birth date on or before 1942 are currently being selected. Younger veterans will be selected on future flights.
The trip involves a full day of touring Washington D.C. with stops at the National World War II Memorial, Korean War Memorial, Vietnam War Memorial, and Arlington National Cemetery along with other stops. The trip is fully funded for veterans via donations to Veterans Honor Flight. Each veteran travels with a guardian, a volunteer who assists the veteran with their needs during the day. Flight costs exceed $83,000.00 for the one-day trip.
If you would like to support Veterans Honor Flight, donations can be made at www.veteranshonorflight.org or any Peoples National Bank or Banterra Bank facility in Southern Illinois. All donations are tax deductible. Additionally, donations may be made in association with sponsorships, such as a wheelchair banner sponsorship ($100) which places a banner on one of the wheelchairs taken to Washington D.C. in honor or memory of a veteran or with a personal message. For additional sponsorship information, visit www.veteranshonorflight.org.
Follow Veterans Honor Flight on Facebook (www.facebook.com/veteranshonorflight) or Instagram (www.instagram.com/vethonorflight) for the latest information.
Veterans Honor Flight of Southern Illinois is a hub of the Honor Flight Network and is dedicated to the service of the veterans in Southern Illinois. Veterans Honor Flight of Southern Illinois is a 501(c)3 non-profit organization with all available donations going directly to flight costs. As of 2019, 97.5% of all donated money was used for flight costs.