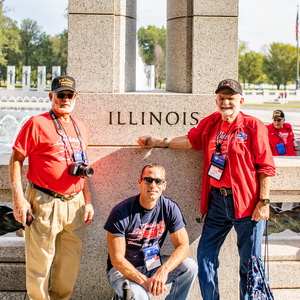 Veterans Honor Flight of Southern Illinois completed their seventh flight to Washington, D.C. on Tuesday, September 28, 2021 after a nearly two-year hiatus due to the COVID-19 pandemic. The all-volunteer group departed Veterans Airport of Southern Illinois at 5:30am for a day packed with visits to memorials in our nation's capitol. This flight carried 87 veterans, including three World War II veterans.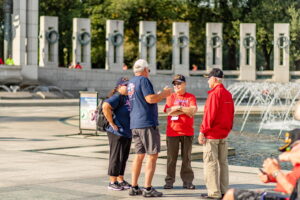 Flight 7 made stops at the National World War II Memorial, Korean War Memorial, Lincoln Memorial, and Vietnam War Memorial before breaking for lunch. After lunch, a surprise additional stop was added to the tour with stops at the Franklin Delanor Roosevelt Memorial and Martin Luther King Jr. Memorial. These stops had never been included in a Veterans Honor Flight of Southern Illinois trip previously.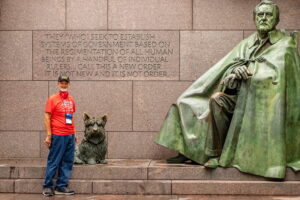 Next, the group visited the National Marine Corps Memorial, commonly known as Iwo Jima.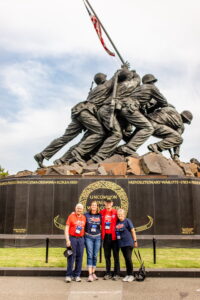 Included in every Honor Flight is a front-row seat to view the Changing of the Guard ceremony at the Tomb of the Unknowns at Arlington National Cemetery. Veterans are treated to an exclusive experience at Arlington, thanks to the US Army's recognition of Honor Flight.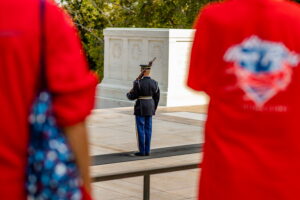 The flight returned to Veterans Airport of Southern Illinois to a heroes welcome. Starting at 5pm, the Welcome Home Celebration allowed the public to come out and be a part of Honor Flight. Welcoming our heroes home when the flight returned, the Welcome Home Celebration is an integral part of the Honor Flight experience.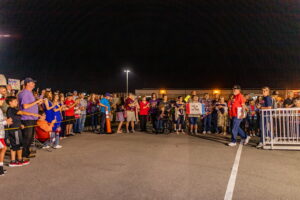 Flight 7 included a number of safety measures to ensure all veterans were protected during the flight experience. All participants were required to be vaccinated against COVID-19. Social distancing was maintained during the Welcome Home Celebration between the veterans and general public and the event was moved fully outdoors. While onboard the aircraft and buses, all participants were required to wear masks. Veteran safety is the top priority of Veterans Honor Flight.
The Board of Directors of Veterans Honor Flight of Southern Illinois would like to thank all of our guardians, volunteers, and committee members. Honor Flight is an all-volunteer organization supported by donations. The board believes all donated monies should directly go towards the flight operation. Additionally, the Board of Directors would like to thank WPS Healthcare, Cape Air, Pass OneHour, Heartland Regional Medical Center, Megabytes Technology Services, Midwest Aviation, The American Legion, SIU ROTC, and all donors who made this flight possible.
Veterans Honor Flight plans to fly again in the Spring of 2022, but a date has not yet been set due to the ongoing pandemic.
For complete information about Honor Flight, visit www.veteranshonorflight.org.